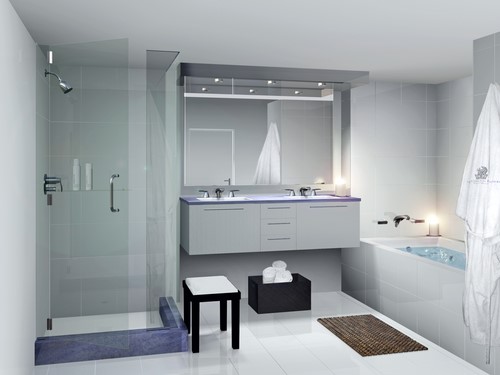 The bathroom of a home is one of the most used rooms in the house, making it one of the easiest places to clean and maintain. With daily water usage, constant soap scum, body oil, and other dirt and grime exposure, and frequent temperature changes and humidity in the air, it's easy for a bathroom to fall into disrepair—especially if your bathroom products are already old and deteriorating. While a dirty bathroom is a terrible first impression and an eyesore, it can also harbor a perfect environment for mold and mildew to grow and contaminate the air you breathe on a daily basis.
The cleaning regimen for an older bathroom space will certainly take longer to complete than for newer, more advanced products. That's because today's products are engineered to repel dirt and grime, and to fight mold and mildew growth before it starts.
Even so, it's worth it to keep up with your bathroom's maintenance needs as best as you can for as long as possible—and until you hire your trusted team of bathroom remodelers to replace your products with low-maintenance, modern upgrades. To help you make the most out of your efforts to keep a cleaner bathroom in the meantime, take a look at our best tips for older bathroom maintenance from our team at Luxury Bath.
Coat Shower Walls and Doors with Water Repellent
Perhaps one of the easiest ways to help prevent moisture buildup and mold growth is to coat the shower walls and doors with a water repellant. Products like Rain-X will allow water to bead up and slide right down the walls of your shower to prevent hard water stains and moisture buildup. This can be very helpful before having your shower enclosure replaced with a new one that repels dirt and grime and is infused with Microban protection.
Build Better Storage Areas
By keeping your bathroom cabinets organized, all of the items you use in your bathroom will have a specific place to go when finished. While this may be a learning process for younger kids, and some adults, building this habit can help you keep your bathroom clean and organized after each use.
Along the same lines, consider adding more towel bars to hang wet towels if necessary. Walking into a bathroom with wet towels strung throughout the place not only can damage fragile fixings and the walls behind them, but it also gives your bathroom a terrible look. Investing in more towel bars will ensure that after each bath, your guests or family members will have a place to hang their wet towels to dry.
Use High-Quality Cleaners
Cleaners are one area that you do not want to skimp on when buying items for your home. Cheap cleaners may get the job done, but they will not have the same long-lasting, deep-cleaning effect as many other cleaners do. Nor will they be able to take on the toothpaste residue, soap slime, and hairspray and gel build-up that attack your bathroom surfaces on a daily basis.
Find hard water stain remover products and scrubbers with built-in foaming cleaning solutions, shower sprays, and gel cleansers, and learn how to use each product appropriately. Cleaning will take far less time and effort if you're using the right products and tools to clean your bathroom in the correct way.
Keep Cleaning Wipes Near
Stash a canister of disinfecting wipes in your bathroom cabinets to always have them on hand. These wipes can make quick work of any type of cleaning in just seconds. By making it a habit to use one every night or morning, you can assure that your bathroom will always stay clean.
Reuse Dryer Sheets for Easy Cleaning
Used dryer sheets are usually statically charged, making them perfect for picking up hair or dust bunnies. Keep a stash of used dryer sheets in your bathroom cabinets to easily clean up hair, dust, or lint without having to break out the vacuum cleaner.
Avoid Using Bar Soap
Bar soaps are one of the most traditional accessories used in the bathroom. Chances are, you use these quite frequently in your own home. However, they can cause quite a mess when used day in and day out. Consider switching to a foaming soap or liquid soap dispenser to keep your bathroom cleaner.